As featured in "The Hippie Issue" by Whalebone
(Originally published Fall 2021)

Vermont may have the second smallest population in the United States, but that hasn't hindered them from letting their freak flag fly—so high, in fact, it earned them the honor of "Most Hippie State" in the country. While you will happen upon your fair share of tree-hugging, this off-centered state is a landmark for those who wish to live beyond the constricting confines of "working nine to five"—and enjoy a whole lot of the world's best maple syrup in the process (cue some more of that delicious tree- hugging). But, free-thinking innovators and creators alike have flocked to the Green Mountain range for more than just the sugary liquid gold, cultivating a community brimming with personas pursuing their dreams and idiosyncratic lifestyles.
Vermont's microcosm of counterculture has emanated as a force for the greater popular culture, having influenced hippie-centric brands, from ice cream flavors like Cherry Garcia to top-notch camping gear, and just about everyone has been "Phishing" to be a part of a new wave of thinking here. Even their government prides itself on being progressive, having made sincere efforts to chart a new course through complicated territories pertaining to both the environment and ethics.
Van packed and cameras ready, we set out on a three-day AWA Adventure to discover endless stories of those who whole-heartedly believe in their own ambitions and curious interests. From sites that honor eclectic collections to the first true "web-site," each story we encountered was just as rich as the maple syrup we sampled.
The Shelburne Museum (Shelburne, VT)
Collectors walk a fine line between connoisseur and hoarder, and at the time that Electra Havemeyer Webb began her collection of Americana artifacts, the term "folk art" hadn't become popularized. Surrounded by her parents' collection of fine art as a child, Electra appalled her mom and dad with her deep interest in the simple, everyday art and handmade objects of New England. But Electra's appreciation for American artifacts, and support for an alternative view of what designates "art" was insatiable.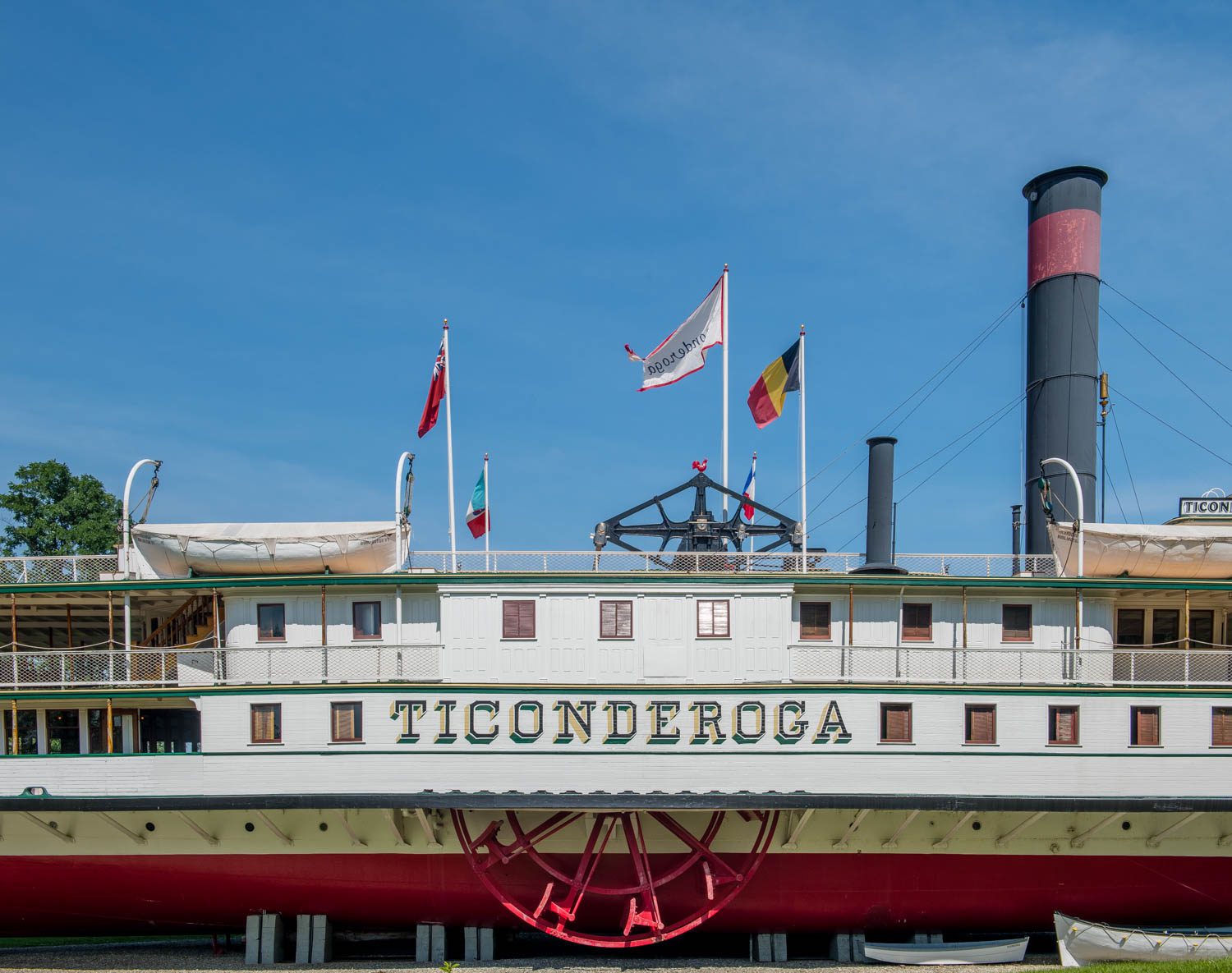 Today the Shelburne Museum houses her "collection of collections" in over 39 houses on 45 acres of pristine Vermont pastures. From small snuff boxes to land-locked full-sized ferries, Electra somehow collected it all. Today the museum has over 100,000 artifacts, making it one of the largest collections of folk art in the world.
Apple Hill Farm (Rochester, VT)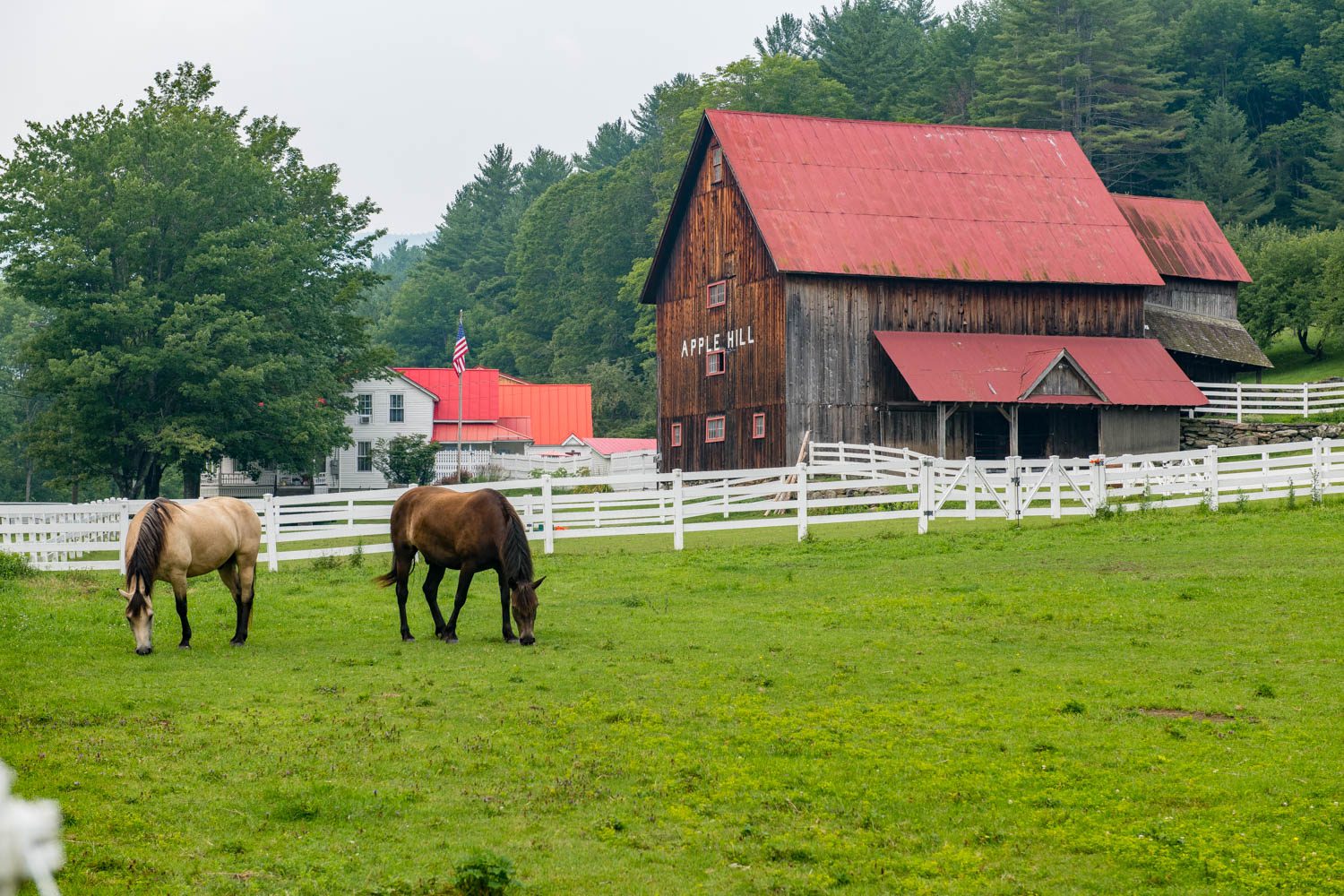 In a state that is riddled with barns, Apple Hill Farm might just be the most iconic. Named for the old-growth apple trees that line the property, this beautiful bank barn is one of the most well preserved in the state and has been placed on the National Register of Historic Places. How 'bout them apples?
Dog Chapel (St. Johnsbury, VT)
This chapel on a hill is a sanctuary for all dogmas, creeds, and breeds, imagined by folk artist Stephen Huneck, who wondered what it would be like to have a ritual space to help heal our hearts when our four-legged friends make their way to that big farm in the sky. Today the walls are filled with notes, photos, and paw prints of Fidos who have made their indelible mark as man's best friend. We just suggest you not forget your tissues at the door…you know…in case your allergies act up or someone happens to be cutting onions.
Spider Web Farm (Williamstown, VT)
Home of the original "web-site." Will Knight's unusual passion for spiders' handiwork led to a very special kind of art. The creative spark ignited when his wife Terry learned that spider webs could be preserved with a quick spritz of spray paint. With the help of their spider friends, over 16,000 pieces of unique art have been shared across the world. The tradition is maintained by Terry and her son Will, who are quick to explain that no two webs, like Vermonters themselves, are alike.
Museum of Everyday Life (Glover, VT)
Housed in a rickety old barn, this is a collection that highlights the humdrum objects of the society. At this self-service museum, patrons can peruse everyday artifacts from actual dust bunnies to long-lost love letters. This museum seeks to breathe life into the inanimate objects that animate our lives.