As featured in "The Interview Issue" by Whalebone
(Originally published Spring 2021)
With an eye for architecture and a lens inspired by one of the more influential film directors today, @AccidentallyWesAnderson came to life as a personal travel bucket list-one Instagrammable square at a time.
While sharing photos of their hopeful adventures and delving into little-known ephemera and miscellany of the world, Wally and Amanda Koval unexpectedly struck a chord.
What may have begun as a living room conversation quickly grew into something much bigger, connecting people from all over the globe—some who may have little in common beyond a penchant for the peculiar, an appreciation for a quirky angle, a love of bright-but-simultaneously-muted colors and likely (read: definitely) the late-career resurgence of one William Murray.
Since 2017, the AWA Community has expanded into a daily dose of the beauty and intrigue that surrounds us-ultimately providing the equivalent of a nice, deep breath of fresh air. A space at the crossroads of a genuine connection between travelers, photographers and storytellers-where houndstooth and argyle print clothing is never required, but always preferred.
The aforementioned influential director, the actual Mr. Wes Anderson, has brought us a seemingly unending list of beloved films at a pace far more prolific than we have any right to expect. From The Royal Tenenbaums and Moonrise Kingdom to The Life Aquatic with Steve Zissou and Fantastic Mr. Fox, and of course his 10th feature film The French Dispatch—the list goes on.
What follows is a light conversation between Wally, representing @AccidentallyWesAnderson, and Wes Anderson, representing himself.
Of Accidentally Wes Anderson: The Book, Wes Anderson wrote, "There must be about 200 locations here, which should keep me busy for several decades, but I plan not to let any of these experiences escape me, especially the Croatian pancakes stand, page 95, Accidentally Wes Anderson."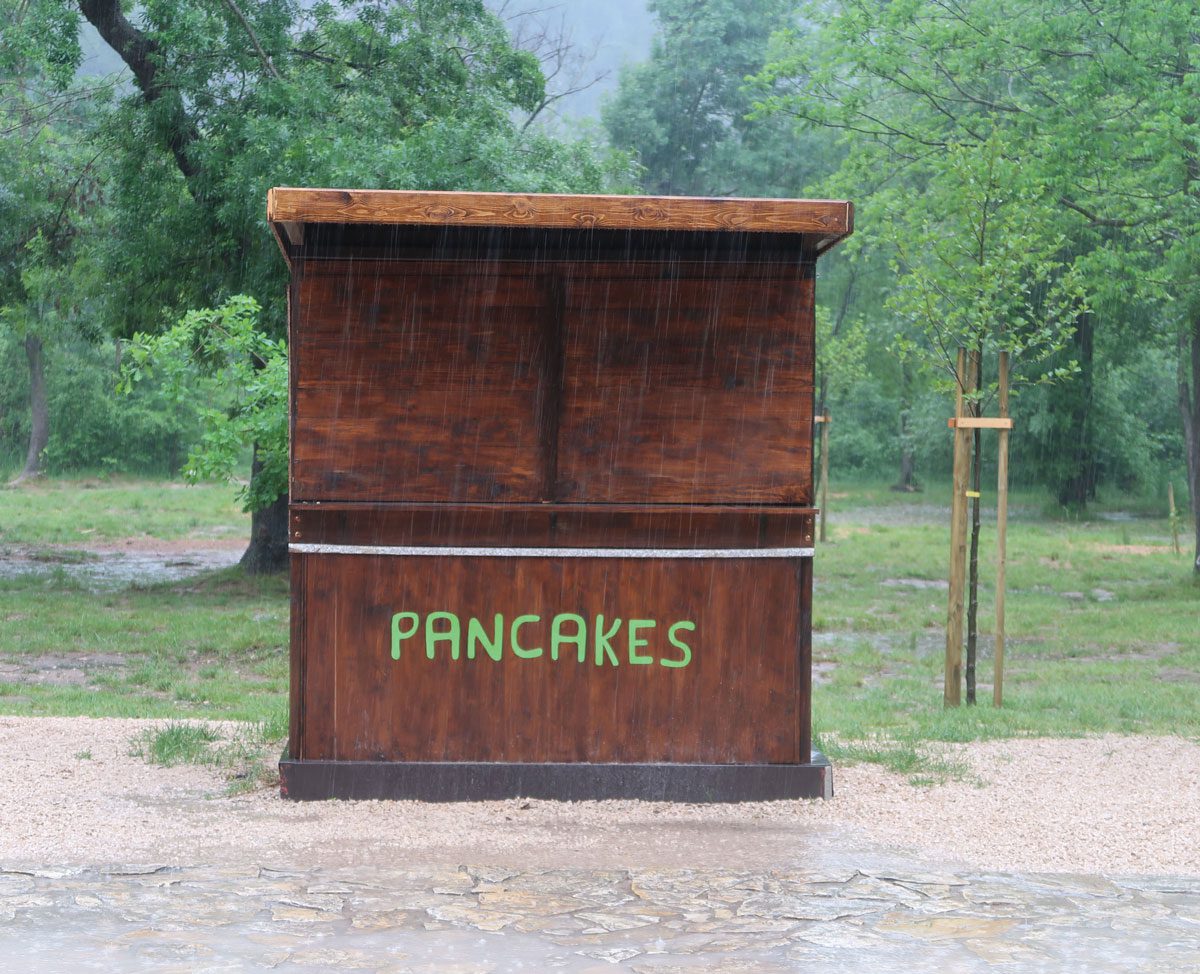 ACCIDENTALLY WES ANDERSON: Where—besides the Croatian pancakes stand—have you not yet traveled that has always been on your list, and why?
ACTUALLY WES ANDERSON: Well, I sort of think in terms of living somewhere rather than merely visiting. I like to stop and stay. Japan is the place where I have long thought I would like to settle down for some years. I think of Lafcadio Hearn and Donald Richie, foreigners who made this place their home.
AWA: Legend has it that at 20 years old, Steven Spielberg spent the night in a Universal Studios parking lot in order to slip Chuck Silver, the studio's film librarian, a copy of his script. What is one unconventional thing you've done in order to get your name out there or your art elevated when you were first getting started?
WES: I remember when Owen and Luke Wilson and I went to the Sundance Film Festival many years ago. Our short film Bottle Rocket was showing in a program of about 25 other short films. Somewhere in the middle of one of the two nights, they ran these little movies. Essentially, no one attending the festival saw our film. But everyone saw the 2,500 bumper stickers we plastered all over and around the town of Park City. It served no purpose, but we were desperate.
AWA: If you could trade all your talent as a filmmaker and be just as successful and talented in another area of work, what would you switch to?
WES: I always wanted to be an architect.
AWA: From "Sit up straight" to "You never know what that other person might be going through," there are so many pieces of advice that have stuck with me. What is one of the best pieces of advice you have ever received?
WES: I often quote what Peter Bogdanovich told me the day before I started shooting my first movie, which was what Roger Corman told him the day before he started his first movie: "Take it one shot at a time." Maybe it seems obvious, but it is not necessarily instinctive. Sometimes it solves all your problems if you commit to just thinking about one of them.
AWA: Although terrified of heights, I've always wanted to spend a day mirroring a service person at the top of the Empire State Building. If you could choose to do anything for a day, what would it be?
WES: Airline pilot?
AWA: If you could interview one person you admire, who would it be?
WES: I love Jane Fonda, and would like to have dinner with her, not lunch.