If someone were to pronounce "Spoorwegkathedraal" around us we might offer a tissue and say "Gesundheit", but in Belgium this is recognized as the nickname for the Antwerp Central Station. Meaning 'railroad cathedral,' this station is considered the finest example of Belgian railway architecture, and is easily one of the most eclectic train stations in the world. 
Ahead of its time, Belgium was officially the second country to construct a railway line – and with a novelty train system came celebratory plans to create a grand station. But its beginnings were a little more humble than anticipated when a simple wooden structure was deemed the central station.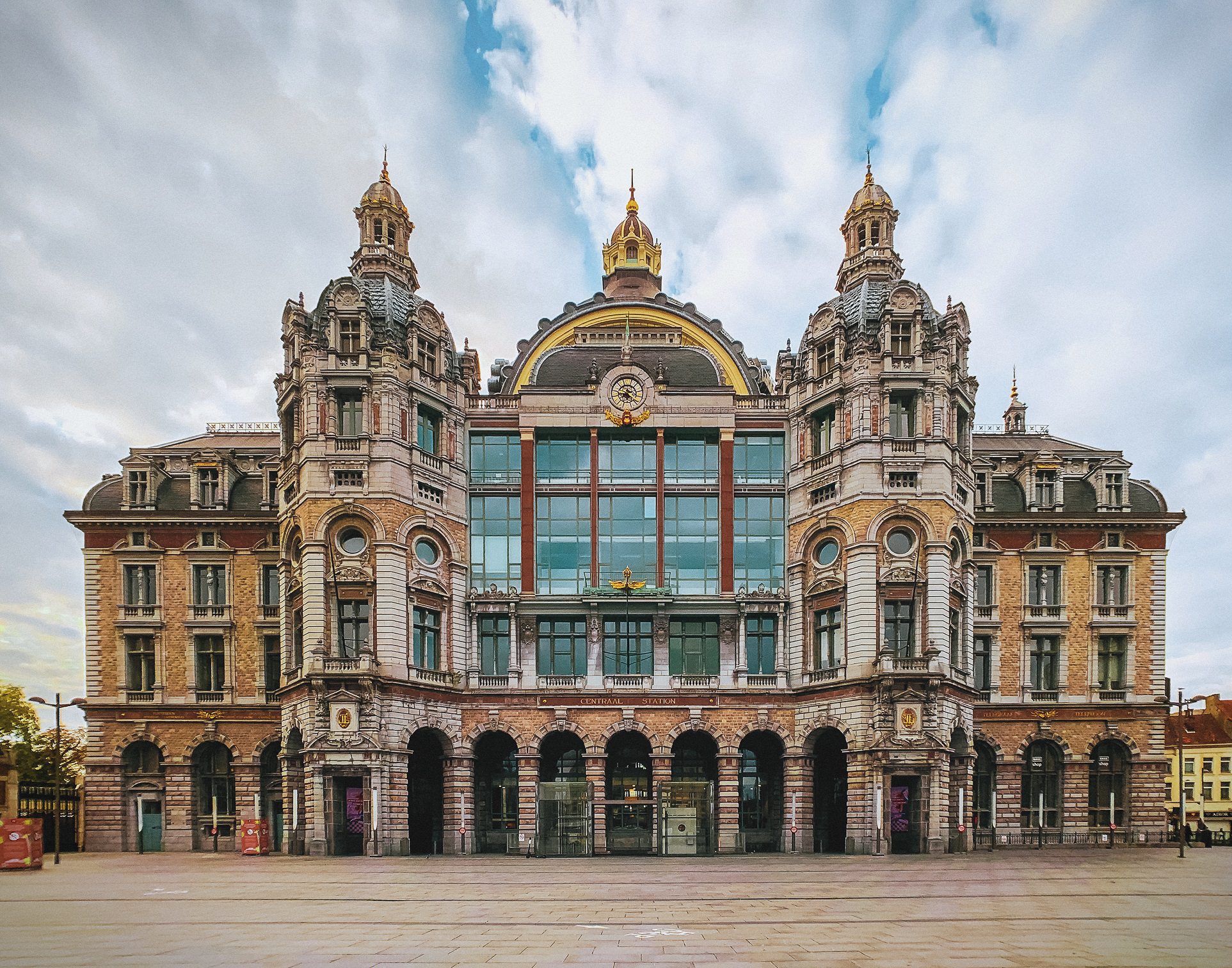 When  King Leopold II took to the throne he brought with him major plans to transform Belgium. A notoriously audacious king, he seemed to transfix on two things, transforming Antwerp into a "little Paris" and finding means to pay for all his grand plans. Properly dubbed the "Builder King" for all the grandiose buildings that he commissioned and funded, Simplicity would never do, it is no surprise that the simple wooden shack that operated as the main train station of Antwerp would be seen as ripe for a remodel. Within his first few years as king, he planned to create a central train station that would rival any other found throughout the world. 
Ground was broken in 1894, but the construction was strenuous and dragged on for over ten years leading local Antwerpites to refer to its design as "slow style" architecture. Upon its completion, the structure resembled nothing of its old self. Wood was replaced with 20 different types of expensive stone, and the simple structure was transformed into an elegant building with eight towers and a massive dome. 
The station is an architectural potpourri with no attribution to a singular style.
Designs range from Neo-Renaissance details to medieval Gothic-style turrets, Neo-Baroque staircases and Pantheon-style columns and dome, even Art Nouveau clocks and Byzantine flourishes can be discovered in its halls. Yet despite this complex patchwork of design, it all manages to come together seamlessly. 
Now how does one get all this money to pour into a huge revitalization project as lofty as King Leopold's? Well, in the case of this king, not by legal means. He privately purchased a large chunk of the Congo saying that he was working philanthropically to help their community. In reality, Leopold was using horrendous tactics to deprive the people of the Congo from their natural resources, most certainly not philanthropic by any means!
In 1998, the terminus was transformed into an important stop on the north-south line connecting to cities such as Paris and Amsterdam. Needing more room for additional tracks the building risked demolition. Ultimately the city decided to dig subterranean train systems rather than add an addition to the historic building, and rest assured that all these updates were done by legal means unlike the devilish King Leopold.