Meeting members of the AWA Community is one of our favorite parts of this project – especially when they have a curious craft to share. So when avid Adventurer Tiffany Cruz answered our call for Colorado suggestions with a glowing recommendation for a very special artist, we made sure to schedule time on the itinerary. Paul Cruz has been creating neon signs for decades, and it turned out having the same last name as Tiffany wasn't just a coincidence, Paul is Tiffany's dad!
With a diminishing number of artists crafting neon signs these days, our interest was piqued in knowing not only more about the process behind this intricate art form, but also about how Paul got his start in the brightly colored medium. What we learned was an amazing tale.
As a child, Paul was typically tasked with the seemingly mundane duty of replacing the burnt light bulbs around his family home. Old incandescent bulbs required constant changing, but if you were to twist them too soon after they sputtered out, you were sure to scald your fingertips. But this lesson didn't keep Paul away from the bright glow of neon. On his way home from middle school, he would pass by cantinas where brightly lit beer signs radiated from the windows. One day his curiosity got the best of him and he went straight up to one of the signs and put his hand out to see if it was just as hot as the bulbs at home. To his surprise his fingers didn't sizzle! The lights were cool to the touch, and a thousand questions entered his mind as to how this was possible.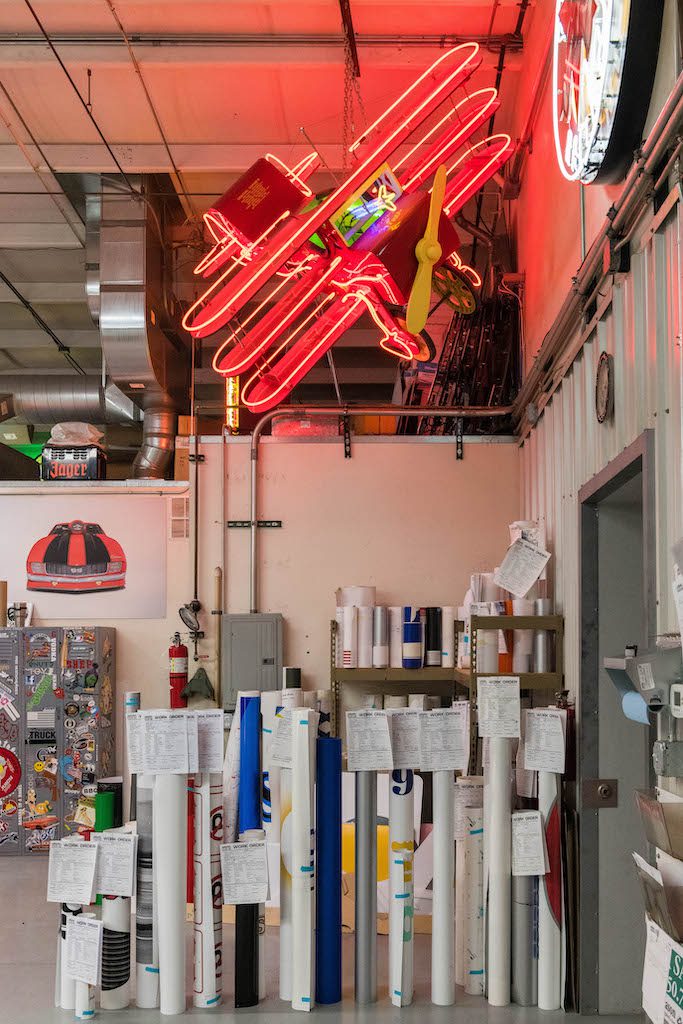 However, Paul's fascination and questions would have to wait. In the years to come, he took up a job as a coal miner, miraculously surviving a cave-in which left one of his legs seriously injured. After numerous surgeries (38 to be exact!) Paul was able to walk with the occasional help of a stylish walking stick.
Dexterity renewed, it was time to seek a new career path, this time above ground, and that's when Paul decided to revisit his fascination with neon. Only four programs in the United States taught the craft, and Paul was promptly rejected by each one, stating they couldn't accept him because of his "disability". 
Not one to take no for an answer, Paul went straight to the source at a school in Dallas, Texas and asked to be reconsidered. Paul's determination was palpable, and with a few special sheets of paper to sign promising that he wouldn't sue his new mentor if he was injured during training, Paul began his first 12-week course in neon signage.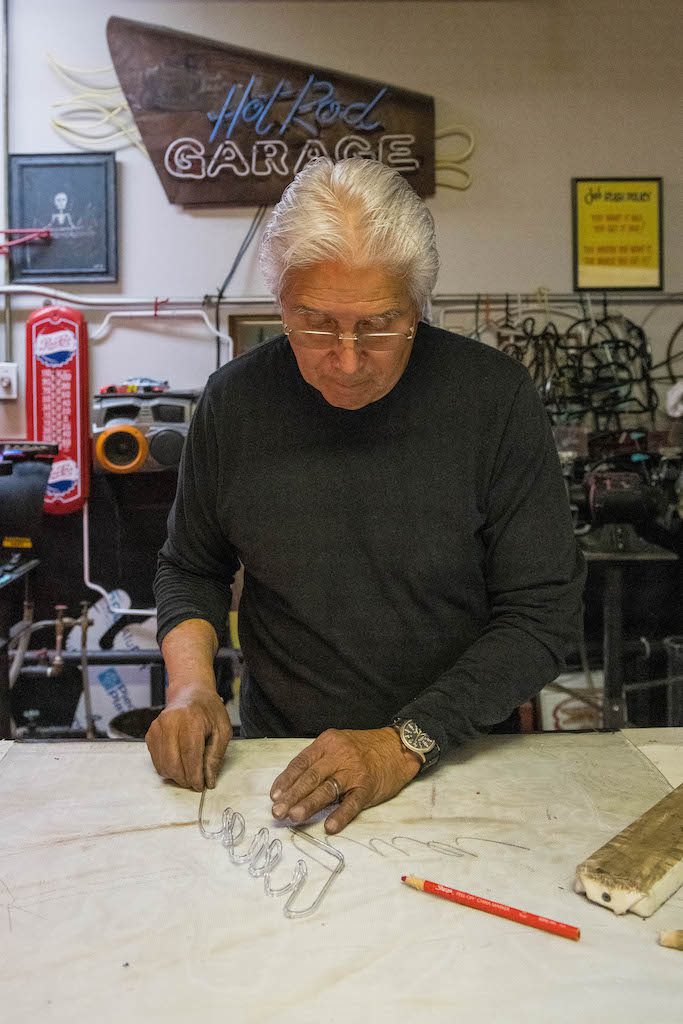 For the next 30+ years Paul perfected his art form, spreading the beauty of neon all around the world while bringing new life and context to different forms of mixed media. From a giant neon catfish that withstood a Texan hail storm to the first neon billboard in Austin, and collaborations with numerous well known musicians, Paul has illuminated not only spaces but political and social problems with his portfolio of projects. Today Paul paves the path for the future of the neon art form by providing classes to students who are just as interested in the magic of the medium's soft glow as he continues to be. And if you happen upon his shop in Grand Junction, he'll be happy to share his story and maybe teach you a thing or two over a small can of orange pop.