Driving through the dusted desert city of Tucumcari, a 100% air refrigerated oasis is made known to motorists by its bright-blue neon light. Dubbed "the last, best, and friendliest of old-time motels," this pink-stuccoed lodging is a relic of America's roadtripping golden years, sitting right on the old Route 66. Along with serving as a post to rest those highway-weary eyes, this motel also carries with it the story of a woman who wanted the Blue Swallow Motel to feel like a guest's "second home." 
Shellacked with a crisp pink stucco, deep blue doors, and multi-colored metal chairs, this desert kitschy lodging was constructed in 1940. Constructed right on US Route 66, the motel sprung up out of necessity to provide lodging for travelers passing through on their way to Chicago in the east or Los Angeles across the desert. Before the US Interstate highway system was built in the 1950s, bypassing this small town, hundreds of vehicles zipped past the L-shaped Blue Swallow.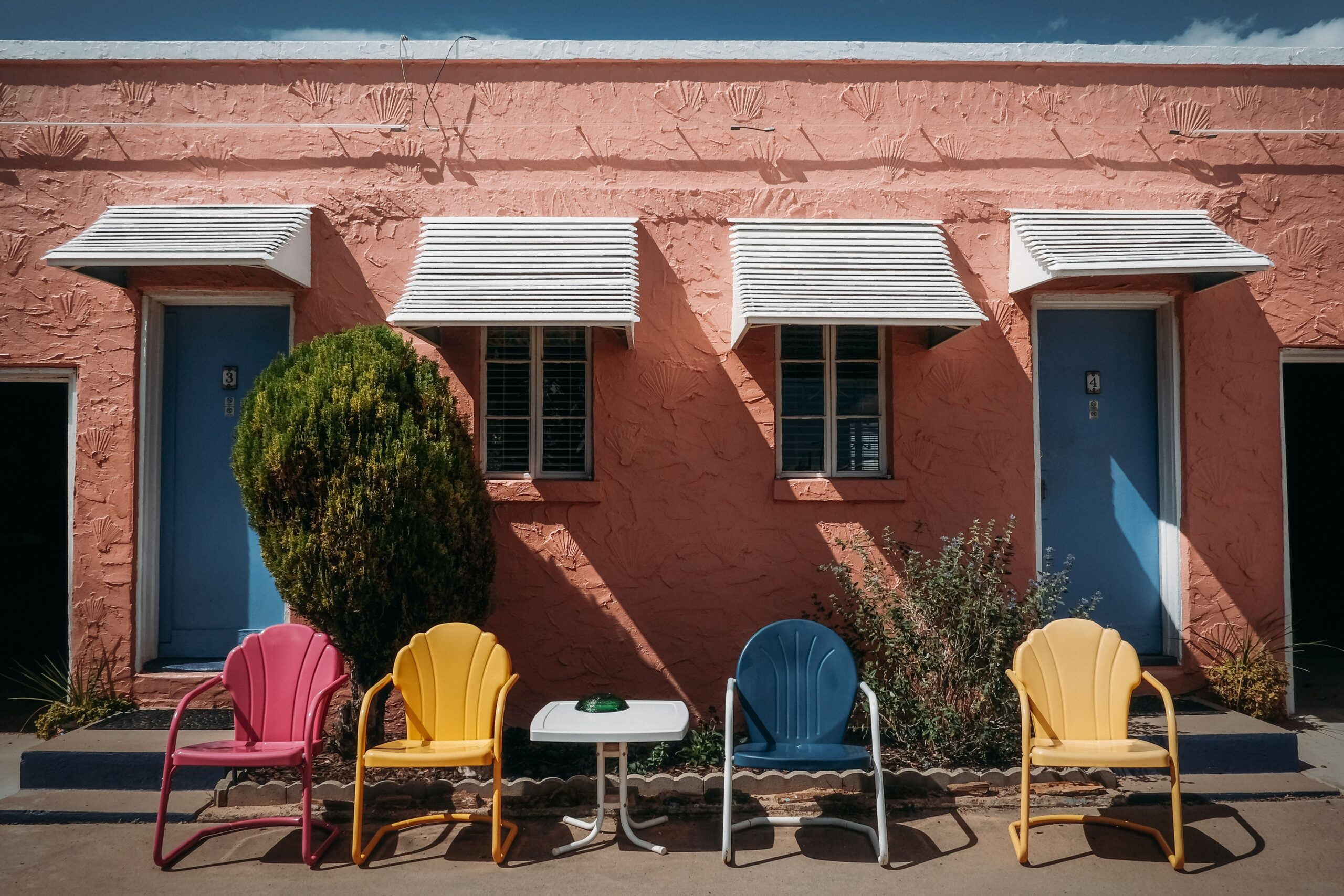 In 1958, as the fate of Tucumcari and other Route 66 towns began to radically change with construction of interstate highways nullifying the need for the historic roadway, so too did the destiny of the small motel with a new owner. Purchasing the auto-friendly lodging with her husband, Lillian Redman would own the Blue Swallow for 40 years until her death. While most motel owners might find satisfaction in filling a vacancy, Redman saw the value of enjoying the company that came through the Swallow's lot. Providing lodging to those who might not have been able to pay, and talking up any rambler willing to regale their road tripping stories, Lillian would say,  "I end up traveling the highway in my heart with whoever stops here for the night." Along with their keys, Redman would write and hand-deliver a benediction (a traveler's blessing, if you weill) to each of her guests. Today, Blue Swallow guests can still find Lilian's kind words on display in each of the motel's 12 rooms. 
In recent years, new owners embraced the old school of this historic spot, retrofitting each room with 1939 Bakelite rotary dial phones, vintage vacuum-tube radios, and authentic mid-century light fixtures. Classic sports remain parked by the general manager's office, as if ready to joyride once again on one of America's oldest western highways. 
The most-notable addition, however, is the Lillian Redman suite–a tribute to a woman beloved by average travelers and  motorway enthusiasts alike. From her benediction now found in each of the motel's 12 rooms, a guest can read, "May these days be pleasant for you, profitable for society, helpful for those you meet, and a joy to those you know and love best." Resting up along this rustic roadway, a day's stay at the Blue Swallow Motel is a pleasant one indeed.