The building at 320 South 19th Street, originally owned by Horace Jayne,resides in one of Philadelphia's most famous areas. With proximity to Rittenhouse Square – one of the wealthiest neighborhoods in all of America – Delancey Place has become synonymous with the upper class. Wealthy characters in the movies Trading Places and The Sixth Sense reside on this small side street, and it is also home to various five-star hotels and restaurants. This is not by accident. City planners designed Rittenhouse Square, both the neighborhood and park at its center, to be appealing to the upper crust of society.  Unique architectural styles pepper the neighborhood, including what was once the home of Horace Jayne.
Mr.Jayne was a noted University of Pennsylvania biologist from the late 19th century. His wife, Caroline Funress Jayne, was an ethnologist of string figures and daughter of a Shakespearean Scholar (we promise they were fun to be around). Both born and raised inn the city, they spent most of their days in well-to-do Philadelphia.  When they needed a house to match their eclectic lives, they would look no further than to Caroline's uncle, notable Philadelphia architect, Frank Furness. 
Furness was known for asymmetrical and attention-grabbing designs that are rumored to have  been inspired by his experiences in war. A Combatant at the Battle of Gettysburg, Furness was awarded the Medal of Honor for heroic acts during that infamous engagement, but afterward was plagued with something akin to PTSD. At least, that's what people would say about his personal inner-workings, based on the outward appearance of his building designs. Houses like the Jayne would lay bare their inner mechanics and Furness would mash styles as he saw fit – the same kind of chaotic fervor and patchwork you might see on a 19th century battlefield. The primary use of the home was to be functional first, and then you could place ornamentals after, contradictory to fashionable designs at the time. 
Observing the house today, one can surmise the architectural plan was no different from Furness' past "form follows function" designs, working on the principle that you could make an area or building beautiful by making it useful. From the front, windows are thrown at the house in a seemingly random array: a single window here, doubled up there, and in two sets of three there. Once you step inside though, a discernible method to the madness is apparent. This home is set up to host not only personal  living quarters. Horace's offices are also on site and comprise half stories on the left side of the building. The entire space is unified on the inside  with a skylight that the Register of Historic Places says not only unites the spaces but holds links to President Jefferson's famed and eclectic home, Monticello, in Virginia.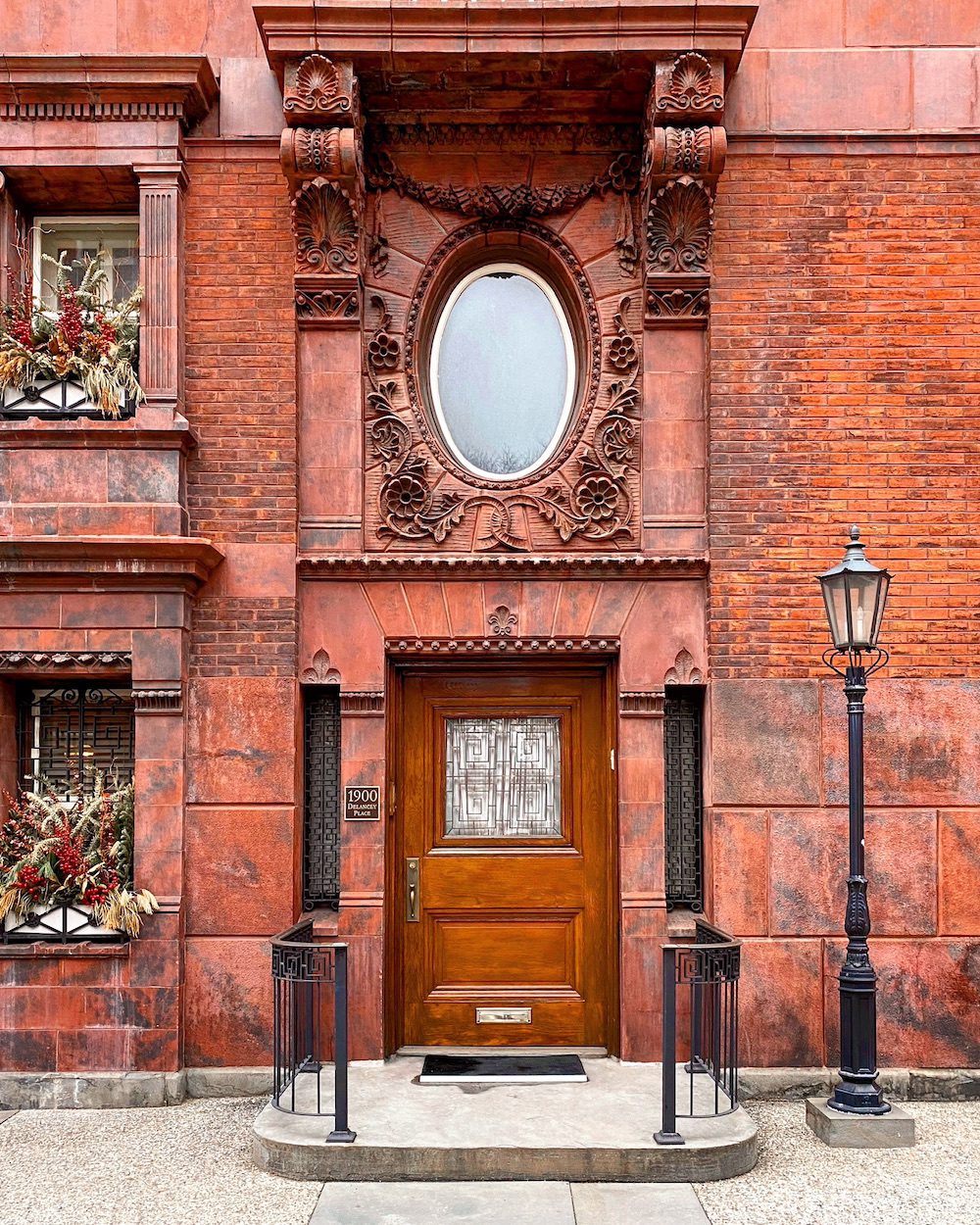 Furness was a prolific architect with more than 600 buildings to his name, mostly in the Philadelphia area. And while the rest of the country was moving on to other styles, Philly stuck with Furness. Along the way, he inspired the architect Louis Sullivan, who would often remark of building design intent that form should follow function—foreshadowing a 20th Century architectural movement. Sullivan himself would go on to influence and mentor the great architect Frank Lloyd Wright, whose idiosyncratic designs would become world renowned and copied. Thanks to  Furness' 320 South 19th Street, Rittenshouse Square was already wealthy in this modern method.