It's a blissful European afternoon, the trees rustling, the cafes bustling, and you're strolling through the Vridagmarkt. The small square tucked into the heart of Antwerp may feel like paradise all around you, but what you don't know is there's mystery just beneath you — a sprawling, remarkable realm known the world around… and it's hidden in plain sight. 
The entrance to St. Anna's Tunnel is a rather bland one: A commercial-sized elevator on the edge of the square. But hop inside, and — tick, tick, tick — you'll descend deep into a dreamland all its own. Ding! You've arrived. The doors part, and before you unfolds a grand old tree, spilling down like a wooden waterfall: The famed antique wooden escalator that's graced so many guidebooks through the years and was the very first of its kind.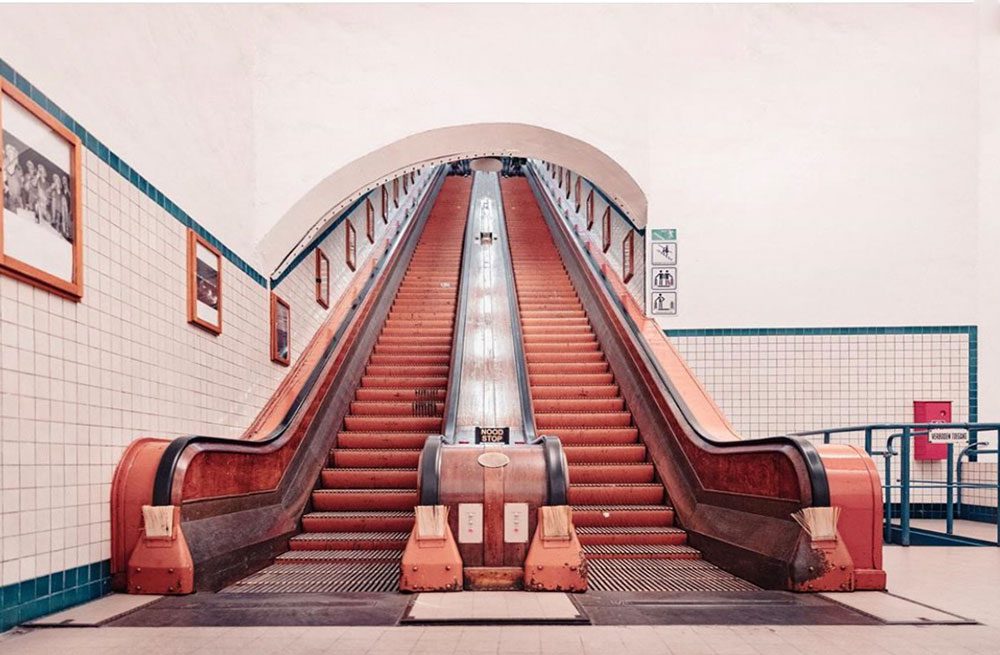 Ride to the bottom and you'll find the tunnel itself, the hypnotically homogenous path that stretches as far as the eye can see — or, 572 meters end to end, but who's counting 😉. Antwerp commuters have been zipping back and forth through the tiled tunnel for nearly a century, bikers and pedestrians sharing this communal passageway below the river Scheldt. 
Now, you may be wondering, why a tunnel? And why so long? Belgians asked these very questions back in the 19th century, when the city was deep into debate over how to get people across the river more reliably than the two ferries that made the journey at the time. Eventually, the needs of the many freight ships that passed through the river won out, and the proposal for a tunnel won out over that of a bridge. 
And lucky us, for St. Anna's Tunnel was born, serving as a centerpiece of the city — landmark and landline alike — even if it may be a little hard to find.