Did you know the city of Venice is kept afloat by timber foundations? And who knew that the wooden frame of the Horyu-ji Temple in Japan has been structurally sound since the 8th century? Timber is both naturally sturdy and easy to work with so when it came to early building materials near abundant forests, it was a no-brainer for early civilizations to adopt it as their prime settlement tool. Although the natural building blocks lost the popularity contest to steel and concrete in the industrialized world, timber is once again making a comeback as an essential construction element in the modern world.
While wood has been used as a primary construction technique for centuries, there was always one major concern—fire
Despite all its positives, wood – by nature – is a flammable material. Many cities where timber was a popular construction method saw substantial fires up until the 19th Century including the likes of London, Chicago, and even Montreal where massive blazes wiped out homes, businesses and historic landmarks.
These disasters brought steel, stone, and brick to become widely used over their combustible cousin. Citing their strength and high tolerance for fire, these materials dominated construction through the 20th Century. And though they are incredible at preventing large scale fires and holding together massive structures, these materials are not quickly renewable, and the process of producing them isn't particularly eco-friendly. With the conversation on climate change beginning to take hold in the latter half of the 20th Century, architects and engineers found innovative ways to make buildings more sustainable and energy efficient giving wood another chance.
Structured by stacking multiple layers of wood on top of each other and held by adhesive (think plywood but thicker), mass timber is the general term for this modern material—though there are a few variations. A popular method, known as CLT (cross-laminated timber), was first developed in Austria in the early 1990s when researcher Gerhard Schickhofer first published a thesis on the use of CLT. By the early 2000s the process of using mass timber for paneling, framing, and structural support took off around Europe.
Architects of the 21st Century have embraced mass timber on a global scale. Top architecture firms like DLR Group are leading the pack, and have helped design mass timber buildings from residential complexes, to commercial spaces, and even skyscrapers. DLR Group is spearheading large commercial projects like Sterling Road in Toronto which will stand at 8 stories high and be DLR Group's largest and tallest mass timber project to date. 
Why this shift back to wood if it caused so many problems in the first place? Turns out, mass timber has a higher fire rating than steel. The dense timber layers char at higher temperatures compared to the unpredictable shapes steel can morph into when heated. It is also easier to build with, decreasing construction times; it can withstand earthquakes better than steel, and it looks pretty gorgeous as well.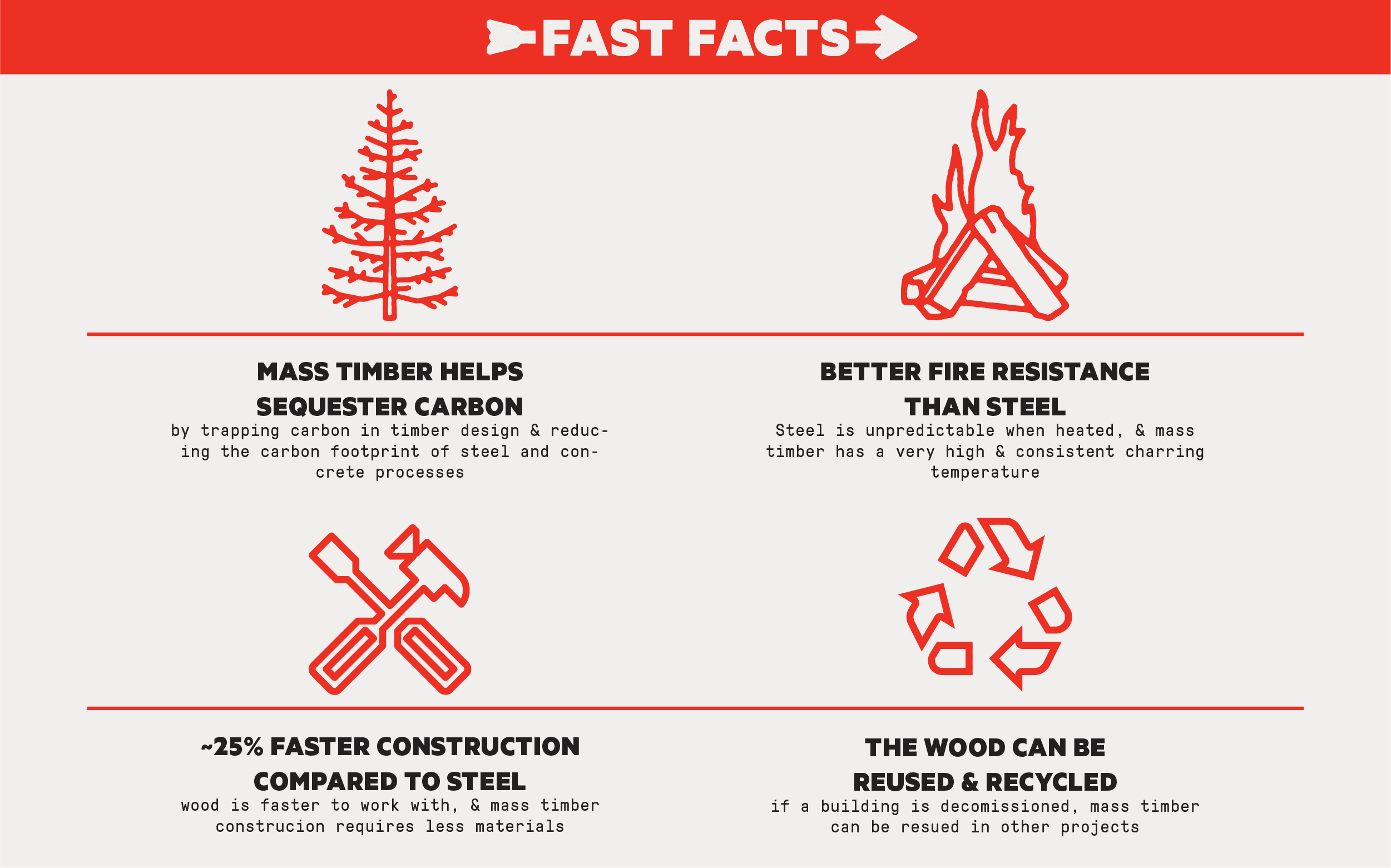 Most importantly, it's a renewable resource that reduces the carbon footprint of a construction site when sustainable timber is used. The wood used in DLR Group's largest US mass timber project in Minneapolis, Minnesota used many feld trees that succumbed to invasive beetles. By using these trees, which would have otherwise rotted away and released their stored carbon, the building is now projected to sequester about 3,200 metric tons of carbon over the building's life. 
The world is once again experiencing a revolution in the methods of building construction. This time, the latest building design trend isn't taking off from a new material, but a new way to shape it.