As featured in "The Movie Issue" by Whalebone
(Originally published Winter 2021)
Wandering the winding cobblestone streets of Angoulême, France, it is easy to be transported back in time. It is also very easy to see why the actual Wes Anderson chose this magical mini-metropolis as the backdrop of his tenth film, The French Dispatch. From a 15th-century paper production hub to an illustration industry leader producing half of France's animated content, the "Ville de l'Image" or "City of the Image" is much more than just a movie set.
With dreams of baguettes in bicycle baskets, the Accidentally Wes Anderson team touched down to explore some of the real-life city scenes from the film itself, and to get a taste of the vast history of this unlikely creative capital. Don't worry, flaky croissants will still be consumed—and if you ask nicely they may even offer you a bite.​​ Allons-y!
Film Location #1 The Office of Mr. Arthur Howitzer, Jr.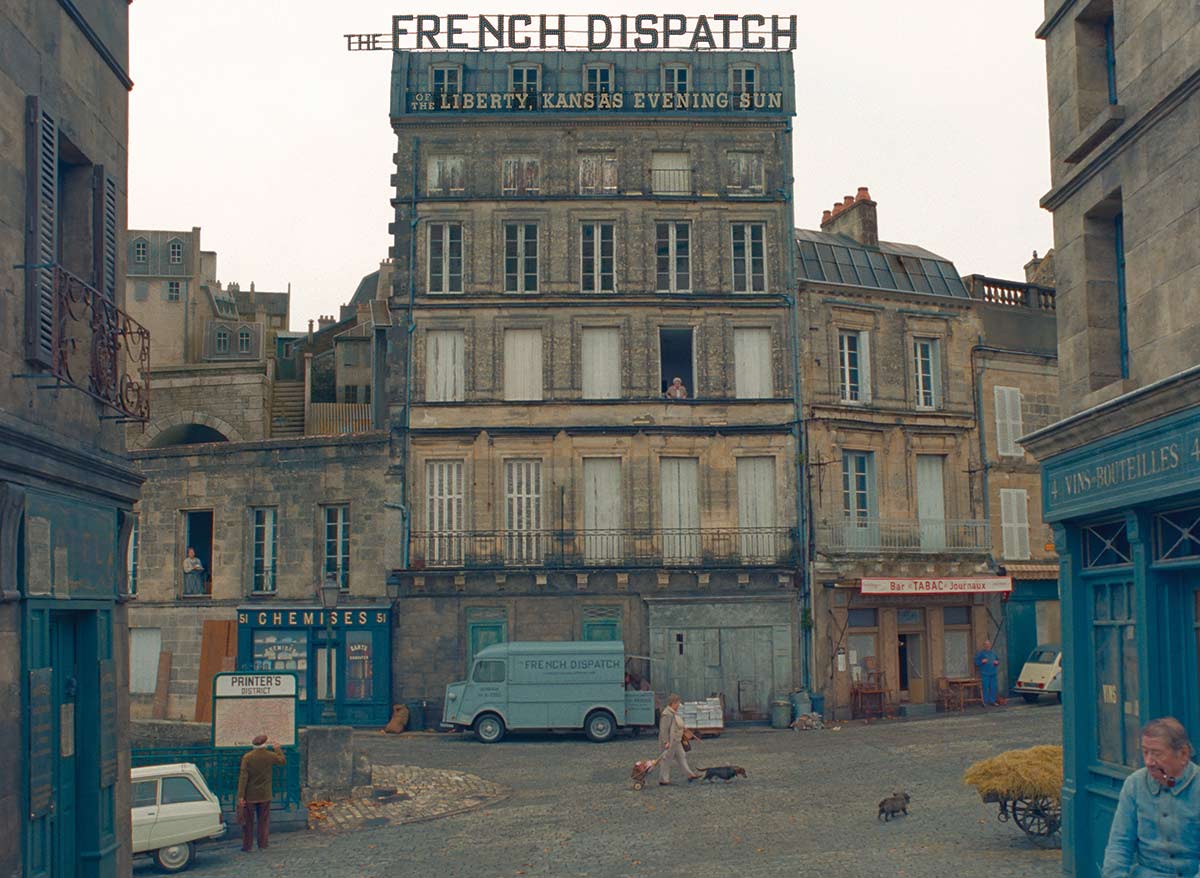 You may not recognize it at first glance, but it took some serious set work to transform this typical facade into the star of the show. Using movie magic and miniatures, the full-size set was downsized and digitally combined with real-life locations to create the now-iconic French Dispatch headquarters.
Film Location #2 The Chessboard Revolution
This fortified castle was constructed in the 9th Century to thwart Viking attacks, and over the centuries became a mixed bag of architectural techniques. With Wes in town, kings, queens, and knights were conveyed in a different dynamic, as characters choreographed the French Defense upon a checkered platform inside this medieval city capitol.
Film Location #3 Angoulême to Ennui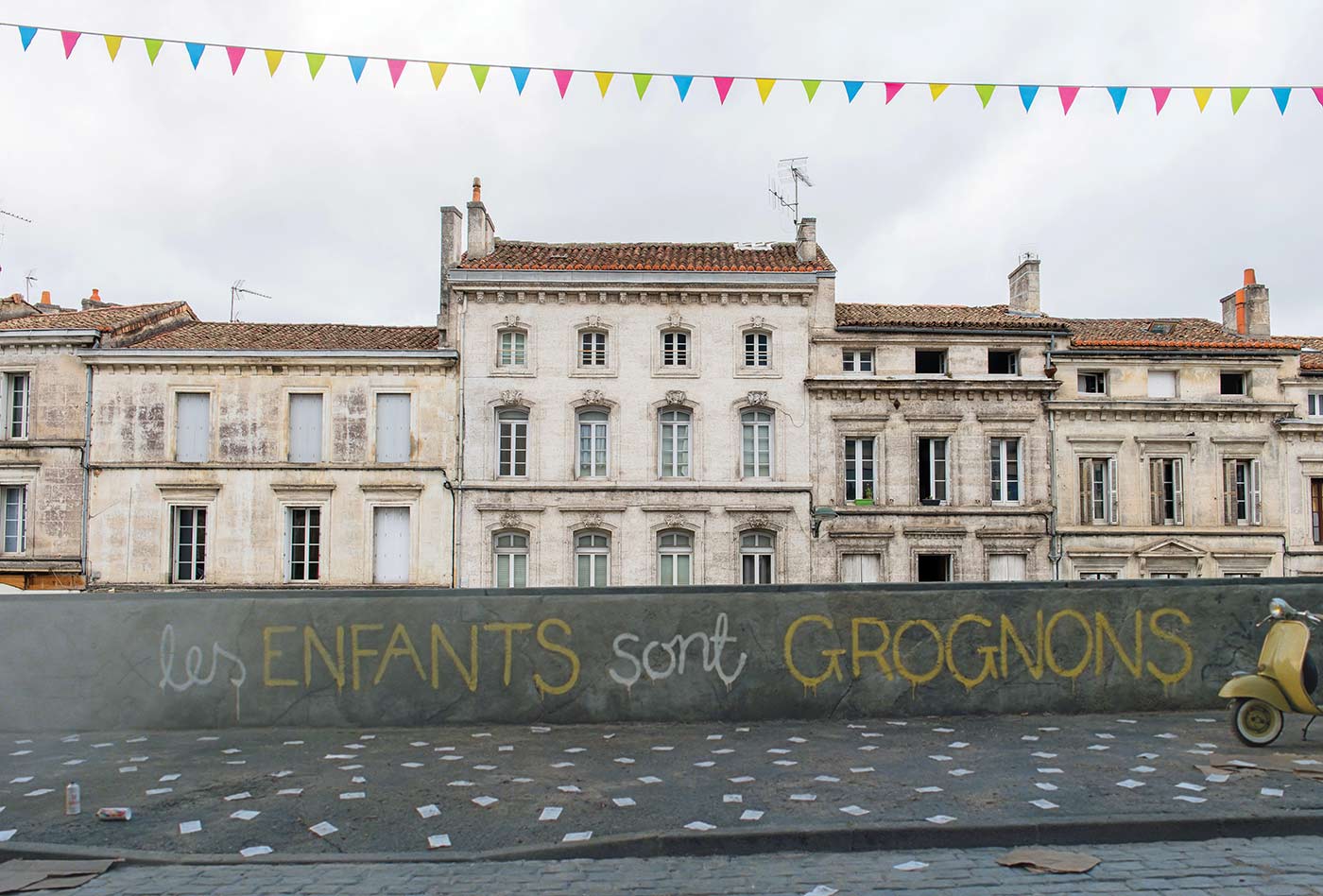 Nicknamed "The Balcony of the Southwest," this urban overlook in the city center was given a graffiti makeover for the film—for those of us who did not pay attention in French 101, the direct translation of this frank fresco below is: "The children are grumpy" (trust us, it makes a lot more sense once you've seen the film).
Exploring the real Angoulême...
Musée de la Bande Dessinée (aka: The Comic Strip Museum)
From ancient paper production to cutting-edge graphic arts, from cobblestone streets to digital innovation, Angoulême is a city that marries a creative past and present. At the Musée de la Bande Dessinée (pg 66)—one of the largest comic strip museums in the world—the 150-year evolution of the art form is told through a collection that includes more than 110,000 magazines and comic books. Fittingly, the animation from The French Dispatch was produced right in Angoulême.
Musée d'Angoulême
In the early 1800s, ten paintings were gifted to the city of Angoulême by a local amateur painter, Ringuet François, who dreamt of establishing a museum in his beloved hometown. In 1869 his dream came true and the institution was opened, where François was unfortunately described as a "very mediocre painter." (Sorry, François) In 1920 the museum moved to its current location, and today it is home to the Casque d'Agris, the oldest refined gold object of Western Europe, among numerous "not so mediocre" paintings.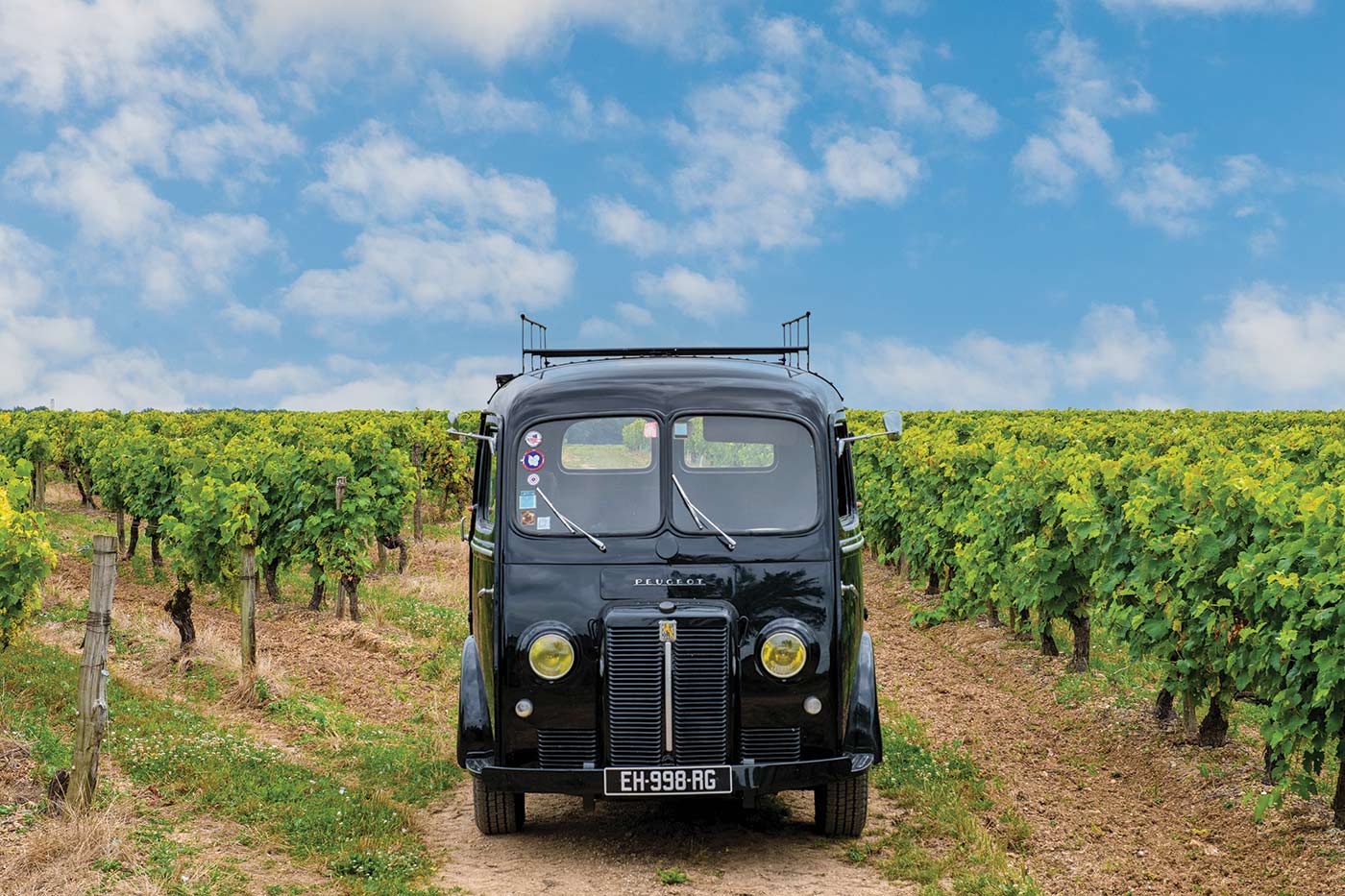 Bourgoin Cognac
And what would a trip to this region of France be without a bit of cognac? The third-generation, family-run Bourgoin Cognac dates back nearly 100 years. Today Frédéric Bourgoin's final product comes from the grapes that his grandfather grew and barrel-aged for decades. The river that nurtured those grapes is the same vital source that helped Angoulême flourish, giving life to its paper industry, and thus the animation and creativity that has sprung from this beautiful and unlikely source.