When Digital Art Director Clémence Paillieux wanted to take a break from all things digital, she decided to get back to drawing by hand and in color. But what would be the muse to these delightful drawings? Enter: AWA. Join as as we take a peek in Clémence's colorful world, and take a look at her adorable drawings of iconic AWA locations. You can also take a gander at Clémence's extensive portfolio here!
What inspired you to start a series of AWA sketches?
I'm a Digital Art Director and I work every day on computers and tablets. I wanted to get back to drawing by hand and in colour! I went on a 7-day canoe trip to Sweden, during which I made a travel diary with my acrylic felt pens, and it was a real eye-opener. When I got back I decided to set myself a challenge of one drawing a day and naturally, while looking for inspiration for something to draw, I came across the AWA book and said to myself, Bingo! What could be more relaxing and aesthetic than these colourful architectures? Perfect inspiration. And the fact that I could hang them all in my living room and have a cool decor motivated me too, I must admit!
How long does each sketch take you?
One hour, max two for the most complex architecture! So it wasn't too time-consuming to do it this summer, and I still had time to go out for a drink!
Do you have a favourite artist's tool? For example, a pen, a pencil or a favourite sketchbook?
Paper that's not too large, thick and of good quality. Acrylic markers in vibrant colours!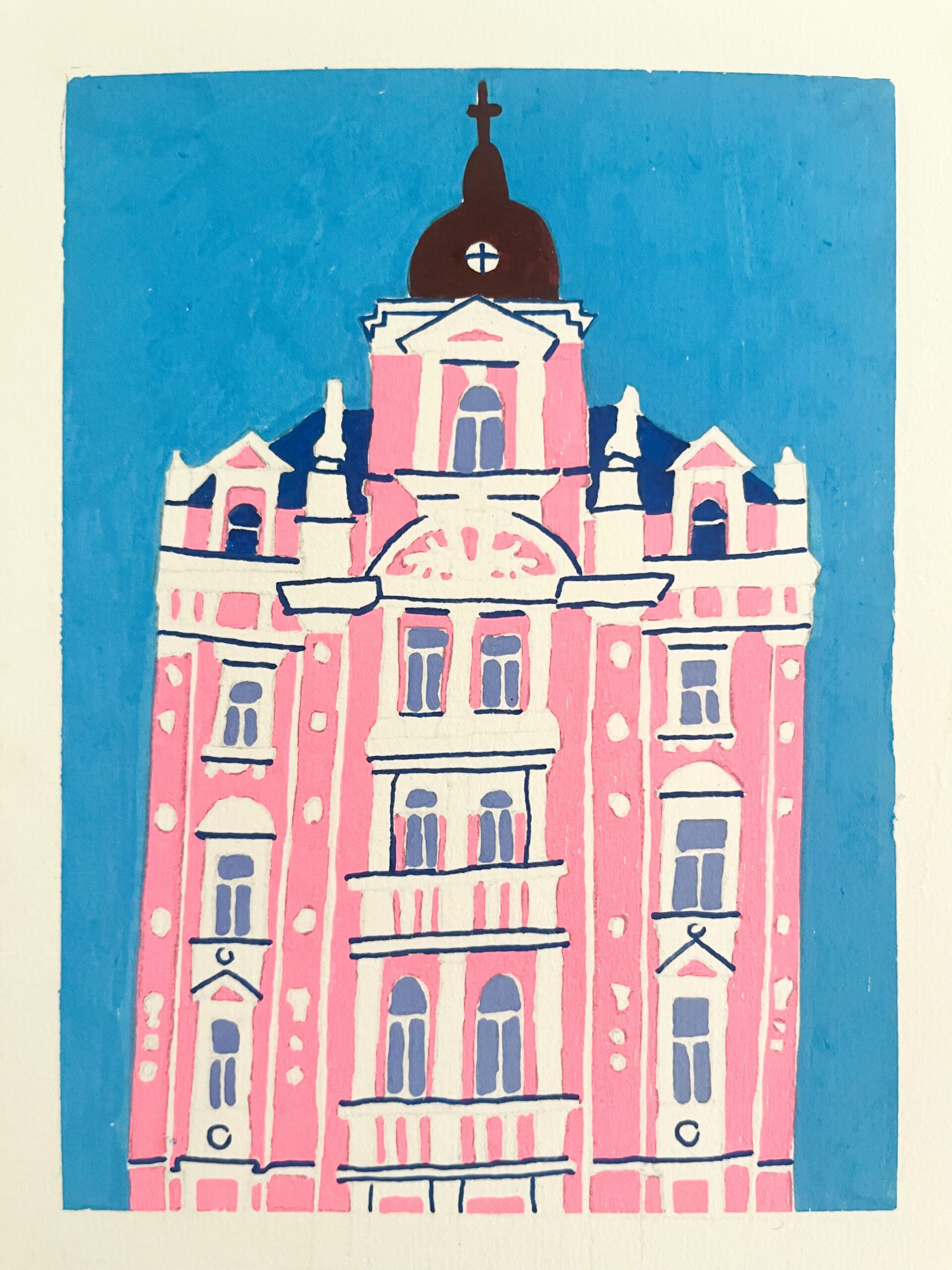 What does a typical Friday look like for you?
On Fridays I work from home so I have more time to myself. I take my latte on my balcony, I walk my dog through the streets of the 11th arrondissement in Paris. At lunchtime I eat on the terrace of a small local grocery next to my house. Sometimes I go to work in a café! After work I spend a lot of time on my balcony reading, drinking café au lait and drawing. And in the evening, I watch a good film with my girlfriend or go off to discover new Parisian addresses with my family or my friends!
Are there any artists who particularly inspire you at the moment?
Charlotte Abramow, a Belgian photographer and artistic director whose universe is so dreamlike and cool at the same time. 
I also discovered Beatriz Lema's graphic novel this summer, which mixes illustration and embroidery, a gem! There are so many people out there making beautiful things that it's a difficult question to answer, ahah!
If you were stranded on an island and had access to food, water and shelter, what three things would you take with you to keep yourself occupied?
A book or graphic novel for sure! Drawing materials to create a giant mural on my island and a special island cookbook, so you'll always have inspiration for great food, because food is life!